AR Series - Arc Welding Robots
The AR-series arc welding robots are powerful and efficient, offering the highest payload, fastest speed and highest wrist allowable moment in its class.
Main Technical Features of the AR Series
* Optimized acceleration/deceleration control for all robot positions enables improved productivity.
* High allowable moment of inertia ratings provide substantial wrist rigidity and consistent weld quality.
* Universal Weldcom Interface enables you to fully utilize the advanced capabilities of your welding power source without putting down the robot programming pendant. – Data Sheet
* Installation is quick and efficient.
* A single cable connects the manipulator to the controller, resulting in easy setup and reduced expenses for maintenance and spare parts inventory.
* Controlled by Yaskawa's high-performance YRC1000 controller that utilizes a lightweight teach pendant with intuitive programming.
* The six-axis MOTOMAN AR robots provide accurate performance especially for the high demands of arc welding applications. 
* With working ranges of 700 to 2010 mm these robots support welding of many kinds of workpieces and mounting a broad variety of welding and cutting equipment.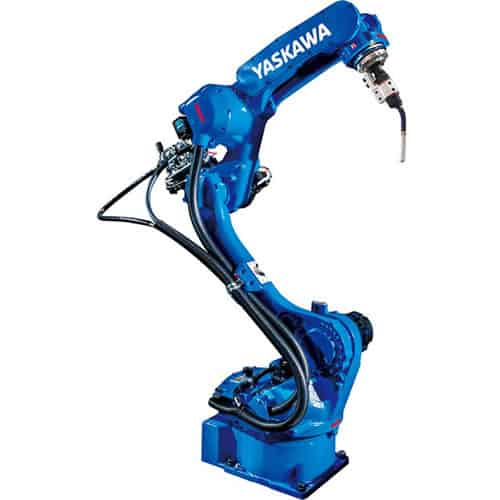 Let's talk
Interested about a product? Call us, and we'll be happy to talk