בתהליך הייצור בתעשיית הסמיקונדקטור נדרשים לעיתים אמצעים נוספים לטיפול בחומרים, כגון תהליך היפוך (flipping). יאסקווה מציעה פתרון איכותי של יחידת היפוך flipper חיצונית נפרדת מהזרוע הרובוטית במערכת ובכך מאפשרת נוחות וגמישות בשימוש ובהתאמה לצרכי הלקוח. 
מאפיינים טכניים
Wafer & Substrate Size – 200 mm/300mm/200mm Ring/300mm Ring *1 (all or any of these sizes)
Wafer Material – Silicon, Glass
Wafer Detection – Optical sensor
Wafer Alignment Acknowledge – Less than 3 sec
Rotation Range – 0°-180° (no intermediate stop)
Clean Class – ISO Class 2
Wafer Holding Method – edge or vacuum grip
Detection of Rotation Position – Magnetic sensor
CDA Requirement – 0.5 MPa
Power Supply – VDC24
Approx. mass – 17kg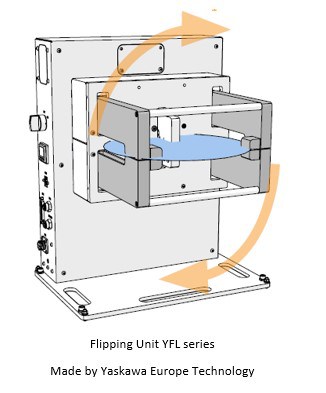 בואו נדבר
מתעניינים לגבי מוצר? רוצים להזמין? יש לכם שאלה על הטכנולוגיות שלנו? רוצים להרשם לסדנא?