MPL Series
The innovative MPL palletising robots are true masters of movement and are attractive due to their superior acceleration and exceptional axis speeds, while requiring very little space for installation.
The MPL models have payloads ranging from 80 kg to 800 kg and working envelopes ranging from 2,061 mm to 3,159 mm.
The internally routed supply lines (four air lines and 22 electrical cables) extending up to the head joint provide for the highest possible hose package service life.
Robot Models:
MPL80II – 80 kg payload and 2,061mm working range
MPL800II – 80 kg payload and 3,159mm working range
MPL160-100II 100 kg payload and 3,159mm working range
MPL100II  115 kg payload and 2,150mm working range
MPL160II  160 kg payload and 3,159mm working range
MPL300II  300 kg payload and 3,159mm working range
MPL500II 500 kg payload and 3,024mm working range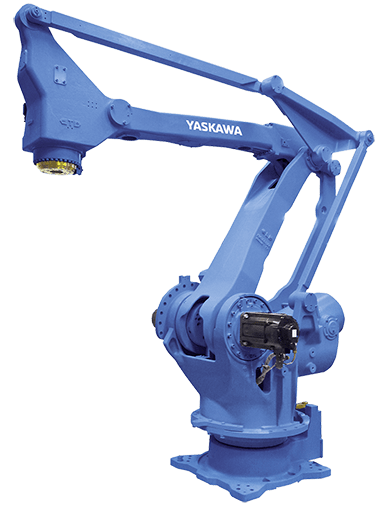 Let's talk
Interested about a product? Call us, and we'll be happy to talk